Virginia Restaurant Exhaust Hood Fabrication
Stainless Steel Exhaust Hood Fabrication | Virginia (VA)
Restaurant Hood Fabrication located in the northern Virginia region. We fabricate stainless steel exhaust hood and duct systems. The #1 source in ventilating equipment manufacturer for Virginia (VA)
E-mail us your plans or bid request to the link
LICENSED MECHANICAL HOOD & FIRE SUPPRESSION CONTRACTOR IN (VA)
Providing custom hood and grease duct fabrication for all applications of commercial cooking, facilities, businesses across the DMV region. Providing complete mechanical hood designs, air schedules, equipment specifications and project developments we help engineers, architects and food managers across the world get cooking.
Custom 18 gauge stainless steel exhaust hood systems for applications listed under Type 1 or Type 1 Exhaust Hood System requirements. UL Listed filters and HVAC product consist of a energy efficient design, proper ventilation air schedules for all open, closed, or extended ventilation hood system. Our stainless steel sheet metal shop is capable providing type 1 exhaust hood systems for all restaurants near Virginia.
Pizza Ovens, Fryers, Charbroilers, and more Hood Fabrication | Virginia
Located in Virginia, we manufacture and fabricate grease duct for commercial kitchen hood. Custom sheet metal parts pertaining to HVAC Return air make up unit. Our office provides a product approved and adequate to the local standard and code.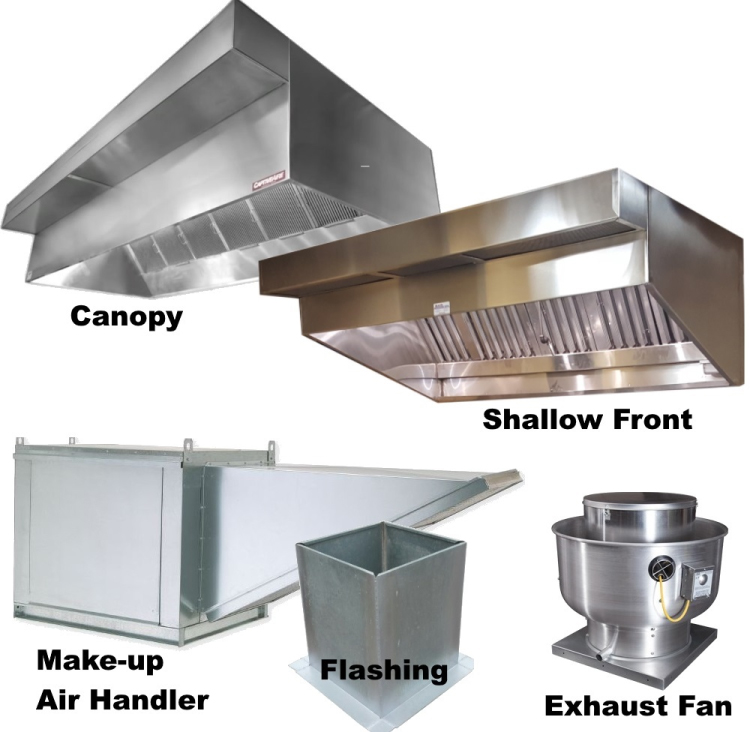 Grease duct fabrication & fire wrapping -Are fully welded duct that is specifically designed to vent grease-laden vapors from commercial cooking equipment such as stoves, pizza ovens, deep fryers, and woks to the outside of a building or mobile food preparation trailer. It is important that the duct work be constructed to meet IMC and local building codes to be inspected by means of light or pressurized smoke.
Captain Commercial Hoods fabricates the duct work based on the needs of the installation; we offer full service and installation of the entire process of ventilating heat, vapors, smoke and particles away from the commercial kitchen work area to the outside environment.
WE BUILD COOKING OPERATIONS.
With our on-site full service sheet metal shop, we are able to meet your sheet metal requirements in a timely manner using top notch care and workmanship. Because our fabrication is in-house, this lowers the cost on your project and allows us to deliver high quality systems made to exact specifications.
Sheet Metal Exhaust Hood Products in Virginia
Grease ducts
Roof curbs
Transitions
Off-sets
Stainless steel wall trims and panel
Stainless Steel Wall Construction & Products- Virginia
Restaurant exhaust systems for commercial kitchens and restaurants are typically engineered to building and local specifications. Exhaust hood systems are manufactured to remove cooking or steam vapors from the kitchen and replenish with tempered fresh air. All type 1 hood systems need to be constructed of heavy duct stainless steel of minimum 18 gauge to 22 gauge for all cooking applications.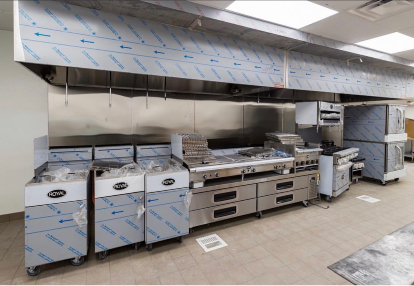 Stainless Steel Type 1 Hood Fabrication
We fabricate all types of stainless steel ventilation hoods, walls, and more for many types of applications for restaurants, take-outs, delis, pizzerias, cafeterias, and much more, your #1 source in hood fabrication.
Type 1 (Flat Griddles, Char-broilers, Woks, Ranges, Fryers, Stoves, Tandoori, Up-right Broilers, and much more)
Type 2 (Light duty ovens, Dishwasher, Smoke Ovens, and much more)