Restaurant Kitchen Hood Installation Service of Fredericksburg, Virginia (VA)
Captain Commercial Hoods and Fire Suppression Systems the local commercial kitchen and ventilation hood system manufacturer shop serving Spotsylvania County / Frederickburg, Virginia region. We build restaurants providing turn key services for all businesses seeking to replace or install a hood system.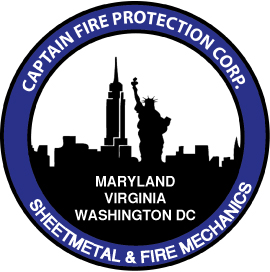 Spotsylvania County, Fredericksburg Virginia region: (571) 556-1700
Complete sheet metal fabricator for any type any size of kitchen commercial hoods, welded grease ducts, roof curbs and fan reducers or adapter. We manufacture all the pieces to build you a state of the art commercial kitchen and hood.
Restaurant AC Duct Installation of Fredericksburg, Partlow, Spotsylvania, and Thornburg Virginia
(571) 556-1700
CaptiveAire Restaurant Hood Fire System Services of Fredericksburg, Virginia (VA)
A restaurant kitchen hood system is an important assest to many businesses and partnering with Captain Commercial Hoods and Fire Systems is a advantage you have on opening your business providing comfort and an efficient kitchen. Schedule a free consultation with our design team today. (571) 556-1700

Spotsylvania County, Fredericksburg Virginia region: 
(571) 556-1700
Commercial Kitchen Hood and Ansul Fire Protection Systems of Spotsylvania County, Fredericksburg Virginia
- Fire Marshal Inspection and Approvals
- Restaurant Mechanical, Electrical, Plumbing Designs
- Type 1 Hood / Type 2 Restaurant Hood Manufacturer
Custom Size - Pizza Oven Hoods - Dishwasher Hoods - Low Proximity - Wall Canopy - Island - Short- Cycle - CaptiveAire
- Restaurant Vent Hood Installation Service
Grease Hood and Duct Welding - Type 1 Duct Fabrication
- Return Make Up Air - Roof Top Penetrations / Cut-outs
- Side Wall Ventilation
- Horizontal Grease Ducts
- Crane Service